Best Life Chiropractic (+1-619-758-5820) updated its migraine and chronic headache treatment for patients in Poway, CA. The center's chiropractor helps patients overcome severe throbbing pain, nausea, and other migraine symptoms.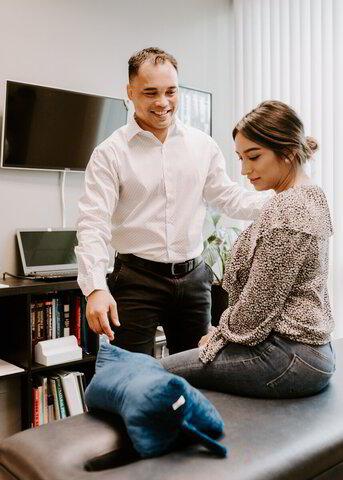 San Diego, United States – August 17, 2021 /NewsNetwork/ —
The San Diego, California-based chiropractic care center's newly updated treatment is a natural and safe alternative to pain medication. Dr. Gerald Palmes treats the cause of migraines by correcting the patient's spinal joint dysfunction.
More information is available at https://drpalmes.com
With the newly announced services, the center helps people who suffer from chronic headaches and migraines decrease the unpleasant symptoms and improve their quality of life.
Statistics show that about 1 in every 5 women and 1 in every 15 men experience severe throbbing pain on one or both sides of the head, known as a migraine. Other symptoms that often occur during a migraine are sensitivity to light and sound and nausea. The intense pain can interfere with a person's daily activities. More than 90% of sufferers are unable to work or function normally during their migraines.
Spinal misalignment is a major cause of migraines. When vertebrae lose their normal motion and position, they can irritate the nervous system and disrupt a certain organ or tissue.
Dr. Palmes adjusts the patient's spine to correct the vertebral subluxations which compromise nerve flow to the upper neck and head. This ensures proper nervous system functioning and reduces muscle tension, allowing the body to heal itself.
Chiropractic adjustments not only provide pain relief but also have a number of other benefits. These manipulations can improve mobility and flexibility, posture, and sleep. They can also alleviate stress and anxiety.
Dr. Palmes helps patients in Poway, Scripps Ranch, Mira Mesa, and throughout the San Diego area with chronic back and neck pain, joint and knee pain, sports injuries, whiplash and auto injuries. He also works with children, babies, and pregnant women.
A satisfied patient said: "I went to Dr. Palmes because I was having mid to lower back and neck pain that was giving me headaches almost every day. It's been a few months now, and I've only had about one headache since my first visit. My mid back pain is completely gone, and my lower back pain is almost non-existent now."
Interested parties can find more information by visiting https://drpalmes.com/how-we-help
Contact Info:
Name: Dr. Gerry Palmes
Email: Send Email
Organization: Best Life Chiropractic
Address: 9909 Mira Mesa Blvd #130, San Diego, CA 92131, United States
Phone: +1-619-758-5820
Website: https://drpalmes.com
Source: NewsNetwork
Release ID: 89042094