Doctors For Accidents is releasing the fourth issue of their magazine. Check out the portal to start browsing physicians. https://portal.doctorsforaccidents.com/register-attorney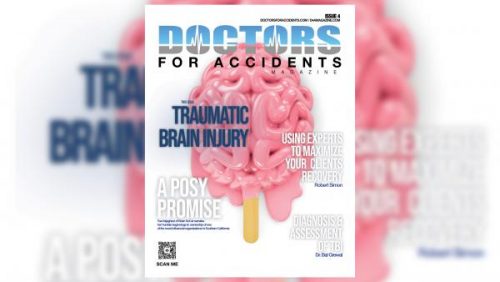 Los Angeles, United States – August 21, 2021 /PressCable/ —
Doctors For Accidents is launching the fourth issue of it's magazine, set to be released on August 26th, which focuses on Traumatic Brain Injury. It aims to provide information and personal recovery stories about one of the body's most vital and fragile organs: the brain.
Doctors for Accidents Founder and CEO: Jean-Paul Anderson, continues his efforts to put information at the fingertips of those who stand to lose the most from unforeseeable accidents: the victims. Since 2019, Doctors for Accidents has been at the forefront of connecting accident victims with the best Personal Injury Doctors available. Cultivating and maintaining relationships with both Personal Injury Attorneys and Physicians of all specialties, is the core platform of how Doctors for Accidents approaches each accident and each person involved.
Life can change at any time. Life savings can turn into hospital bills in the blink of an eye and when insurance companies set out to pay as little as possible to accident victims, things can get out of control quickly. Doctors for Accidents works with multiple networks to ensure that the victims' bodily health is taken care of first and with as little imposition as possible. It's important to seek legal advice from a licensed personal injury attorney immediately following an accident but, while Doctors for Accidents is not legal advice, this issue highlights articles by trial attorneys and medical specialists to maximize a victims' recovery. One such article by attorney Robert Simon, gives insight to the use of hiring a biomedical expert to turn the specifics of your accident into numerical data; he states, "These experts can do a very quick assessment and let you know if the "change of velocity" will be enough to support… various injuries."
When accidents leave victims suffering injuries with long term effects, such as Traumatic Brain Injuries, the relationship with their accident doctor will last years or even decades. So, in this newest issue, Doctors for Accidents has added a supplemental Physician index so that attorneys and victims alike, can hit the ground running on finding the right Personal Injury Doctor as soon as the need arises because in order to find the most compatible physician possible, information is the first requirement.
One option for personal injury cases is for a doctor to work "on lien". This means that the attorney and physician enter into a contract so the victim doesn't have to pay for the necessary treatment until after a settlement is reached. Doctors for Accidents' portal boasts an easy-to-use search function to allow users to search for accident doctors by zip code, specialty, city, and even by doctors that work on lien.
Doctors For Accidents Magazine's fourth issue is set to launch August 26th 2021. More facts and further information about Doctors For Accidents can be found at https://portal.doctorsforaccidents.com/register-attorney
Contact Info:
Name: Customer Service Rep
Email: Send Email
Organization: Doctors For Accidents | D4A Personal Injury Show
Address: 1925 Century Park E. Suite 1700, Los Angeles, California 90067, United States
Phone: +1-833-999-9362
Website: https://doctorsforaccidents.com/contact/
Source: PressCable
Release ID: 89042644