Carlifornia,United States – June 23, 2022 /MarketersMEDIA/ —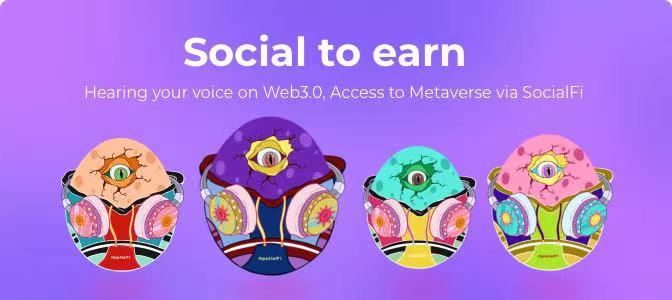 Apollofi.xyz adopted the LayerZero protocol and has launched a multi-chain social platform based on Polygon, Ethereum and BSC networks,trying to use NFT to unveil the new face of Web3 social and explore the next-generation ace social.
At the time of the popularity of Web3 and the Metaverse, NFT became its spiritual leader and valued depression. After several years of dormancy, NFT has accumulated a lot and will shine in 2021.
NFT impact in the attack.
From the beginning of 2021, Beeple's "Every Day: The First 5,000 Days" started with a record price of nearly 70 million US dollars, and NFT has entered the public. Then, with an unstoppable trend, it quickly swept the world, causing celebrities, auction houses, and traditional investment companies to enter the game one after another. From the rise of GameFi in the second half of 2021, to the outbreak of the concept of "X to Earn" in the first half of this year, related NFTs have risen, and the transaction volume has continued to rise. With its inclusiveness, NFT is becoming a sought-after object in the market.
Why NFTs are naturally compatible with social network.
It is not difficult to find that all major social platforms have joined the NFT trend without exception and become their social status symbols. At the same time, NFT also empowers social and promotes a new model of social realisation, proposing the Social2earn economic model.
In April 2021, the price of cryptocurrencies fell, and so did the popularity of NFTs, and even saw a 90% drop in transaction volume. However, after a month, NFTs came back to life, and only two markets, OpenSea and Axie Infinity, traded NFTs worth $106 million. Subsequently, buyers will use NFT as their avatar on Twitter and Instagram, setting off NFT avatar fever. In January of this year, the PFP category set off a blue-chip boom again. Under the leadership of the market's FOMO sentiment, Azuki, CloneX, and mfer ushered in a new high in NFT transaction volume. Compared with homogenized tokens, the Non-Fungible NFT itself fundamentally advertises its personality, which is not difficult to explain why NFT has become the spiritual belief of a few people.
NFT media strips the boundaries of Web2 and Web3.
From a sociological perspective, the strength of social networks comes from three dimensions: social capital, entertainment, and utility. However, the lack of portability of the social graph and the incompatibility between platforms have become a point of frustration for users. The concept of social2earn was developed to allow players to share the growth and benefits with their fans.
NFT is not a physical object that can be seen by the naked eye in reality but exists in the blockchain network. In other words, what you can see is a "hidden" asset in the third world. Web2 users will use the NFT medium to connect to the Web3 channel, which is also an effective witness to distinguish Web2 from Web3.
As Web3's SocialFi platform, ApolloFi has built a relatively sound NFT system so that users can easily enter and enjoy the Web3 world. In addition, ApolloFi does not reject the entry of social media in the Web2 era and supports media platforms such as Twitter, Instagram, and Facebook. In terms of technology and permissions, ApolloFi will be the only identifier that fundamentally establishes user sovereignty and a decentralized world.
Join ApolloFi and make NFT the norm.
The ApolloFi team is highly skilled and well-versed in Web3 social gameplay. With rich experience in the field of blockchain, in view of the advantages of Polygon network in terms of expansion and ecology, it is decided to give priority to building in the Polygon ecosystem.
In ApolloFi, Social to Earn & Merge NFT Fragments are pioneered, which deeply integrated users' natural social attributes with NFT fragment elements. The Web3 platform integrating SocialFi and NFT upgrades provides users with a high-quality social and gaming experience.
It can be said that ApolloFi.xyz cannot be entered without NFT, and NFT is social capital with skin. It is "status brought by investment". Just like private yachts and limited edition watches in real life, NFTs are more recognizable and public.
Social identity NFT has gradually become the most fashionable culture.
In the context of the digital financial economy and the younger generation exploring identity, the setting of a low threshold is very meaningful. More broadly, these developments are the epitome of the fluidity of belonging on the Internet, the transition of Internet group identities, and NFT happens to be its spiritual sustenance and epitome.
In ApolloFi.xyz, users can get a unique NFT experience by purchasing A NFT(Level 1) and collecting NFT fragments to upgrade, which is like a ticket and pass card to participate in social upgrade games. Compared with traditional social points, ApolloFi's NFT fragmentation has stronger incentives and social attributes for the following three reasons:
● NFT fragments are limited to the ApolloFi ecosystem and are really owned by users;
● The falling of NFT fragments will be hidden in 8 major behaviors, and users can obtain lottery opportunities through these behaviors;
● The probability of falling NFT fragments is closely related to the user's level and action connected, with the increase in user level and actions, the probability of falling increases exponentially;
In short, NFT is more directly linked to social attributes and financial gameplay. ApolloFi's NFTs rooted in Web3 social are more social. One way for users to obtain valuable NFTs is to enter the market in the early days of ApolloFi, participate when minting NFTs and obtaining NFT fragments, or directly buy one in the later stage. NFTs in ApolloFi participate in social networking. The former method is more inclined to proof of work, and the latter method is closer to proof of stake. Either way, it is a shortcut to enter Web3 social networking as soon as possible.
At present, ApolloFi's NFT has been launched. Users can go to Opensea or tofuNFT  and take appropriate strategies to achieve NFT upgrade.
ApolloFi will continue to promote the climax of NFT.
At present, NFT is still popular. With the integration of the Metaverse concept and financial derivatives such as DeFi, SocialFi has become extremely possible. If GameFi's Play to Earn model has made the player group a more viable small economy, then ApolloFi's Social To Earn is a social potential stock that can be cultivated for a long time, and its NFT value will also be the most representative of its value. Intuitive representation of social value.
In the utopian world of ApolloFi.xyz, user behavior is linked to the laws of economic operation, and a circular economy including NFT players, community contributors, etc. is established between NFT and ApolloFi tokens. In this dense social land, the emergence of ApolloFi will undoubtedly inject fun into the new social network under Web3. In the whole process, NFT plays an extremely important role, not only in the identity proof in SocialFi, but also in the user's asset proof in ApolloFi.
Find out more about ApolloFi:
Website: https://www.apollofi.xyz/ 
Twitter: https://mobile.twitter.com/ApolloFi1 
Discord: https://discord.com/invite/apollofi 
Contact Info:
Name: Terry Chung
Email: Send Email
Organization: Crypto Finance AG
Website: http://cryptofinance.ch
Release ID: 89077167
If you detect any issues, problems, or errors in this press release content, kindly contact error@releasecontact.com to notify us. We will respond and rectify the situation in the next 8 hours.