Hayden Capital Management, is a hedge fund located in California managed by Robert Hayden.
Upland, California – January 18, 2023 /MarketersMEDIA/ —
Hayden Capital Management, a hedge fund located in California with $249 million Asset under management, managed by Robert Hayden, has reported an annualized return of 14.5% for the year 2022, compared to the S&P 500, which ended the year down 20%.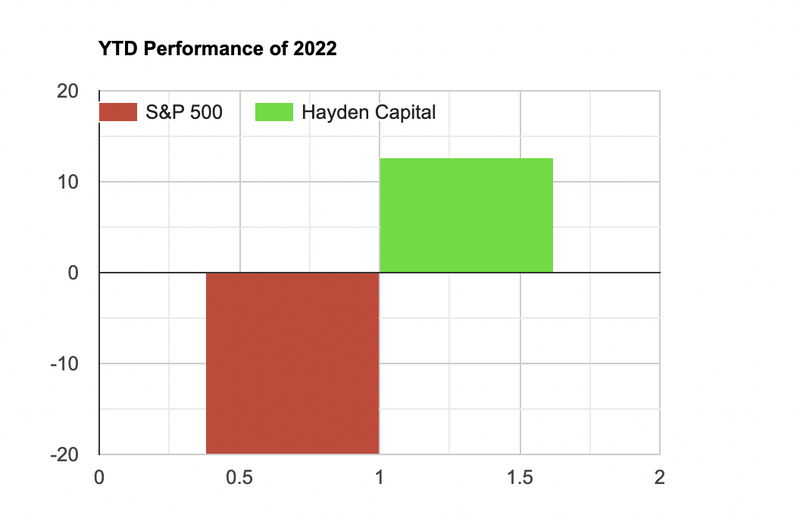 Apart from this, the company was also able to make some extraordinary yet sustainable returns on its recent trades. Their top 5 trades include:
1.        Occidental Petroleum (OXY), with 139.7%
2.        EQT (EQT) with 94.5%
3.        Hess (HES) with another 94.5%
4.        Marathon Petroleum (MPC) with 90.4%
5.        Marathon Oil (MRO) at 86.5%
All of this was at a time when most of the sectors were in deep red.
S&P 500 Energy Sector: 51%
S&P 500 Utility Sector -2.19%
S&P 500 Consumer Sector -3.29%
S&P 500 Healthcare Sector -4.14%
S&P 500 Industrial Sector -7.65%
S&P 500 Material Sector -12.95%
S&P 500 Financial Sector -14.14%
S&P 500 Tech Sector – 27.21%
S&P 500 Real Estate Sector -28%
S&P 500 Consumer Discretionary Sector -35.41%
S&P 500 Communication Sector -40.13%
The company's investment strategy centers on identifying and selecting market leaders with a competitive advantage. This process involves a thorough analysis of financial data and an understanding of the competitive landscape. By focusing on companies with a strong track record of performance and growth potential, Hayden Capital Management can generate consistent returns for its investors. Another area where Hayden Capital Management believes is to 'keep things simple.' Crunching numbers and trying to forecast whether a company will grow a couple of percentage points is not their primary goal. But, finding significant gaps between businesses and their values and monetizing on these gaps is what they excel in.
Key differentiators of Hayden Capital Management:
Where most individuals and institutions focus on the next cycle, the next catalyst, or wait for the next big breakout or breakthrough, Hayden Capital Management tracks a couple of unique yet successful business traits, which are also the proxy of 'Value Creation.' Two of their most used parameters are:
●         Return on Invested Capital- This metric track how much a business can earn on new projects and how much is reinvested into its own business.
●         Reinvestment Rate- The second part is how much, or what percentage of the total earnings, the company is putting back into its business.
These two factors, put together, give a future forecast of any business's performance and earnings potential.
With a decade-long holding strategy, Hayden Capital Management can pick businesses where 90% of the equity returns come from increasing sales and earnings.
At the same time, every portfolio is carefully selected and concentrated into 6 to 15 holdings so that its contributions to the overall portfolio are impactful when it's time for an idea to pay off.
In addition to its focus on market leaders, Hayden Capital Management also employs tactics such as diversification across different sectors and asset classes and advanced trading techniques, including short selling and options. These strategies are implemented to minimize risk and maximize profits for investors.
Some of Hayden Capital Management's multi-bagger stock picks:
§ Amazon: Buying Price- $317, Last selling price- $ 3,240, with an average return percentage of 922%
§ Sea Ltd: Buying Price- $13, part Selling Price- $154, with an average return of 1084%
§ Afterplay: Buying Price- $27, Current Price $98.
§ Exxon Mobil Corp: Buying price $84.50, selling price 110.30, with an average return of 30% for the end of the year
§ Beigene Ltd: Buying price 178.66, the price at the end of the year, $219, with an average return of 40% for the end of the year
§ Chevron Corporation: Buying price, 138.92 with an average return of 26% and the price at 179.49 to close the year.
Overall, Hayden Capital Management's performance in 2022 demonstrates the effectiveness of its investment approach. Any investor looking for a practical, yet not overly leveraged vehicle may consider adding Hayden Capital Management to their list due to its proven track record and strategic investment strategy.
Contact Info:
Name: Philip Cocce
Email: Send Email
Organization: Hayden Capital Management
Website: http://www.haydencapitalmgt.com
Release ID: 89088372
If you detect any issues, problems, or errors in this press release content, kindly contact error@releasecontact.com to notify us. We will respond and rectify the situation in the next 8 hours.